OXFORD MAMMAL GROUP's first talk of 2021 welcomes Dr Iain McGill who will talk about the badger cull.
Badger Cull – unscientific, expensive and immoral.
Dr McGill is a veterinary surgeon and the former government scientist who exposed the BSE cover-up in the 1990's. In addition to his clinical work, he has worked in the fields of neuropathology, molecular biology, phytotherapeutics, conservation of endangered species and, for the past eight years, bovine TB.
Please join them on Zoom on Monday January 11th at 7pm – instructions will be emailed to members before the event.
The event can be accessed by anybody through the Livestream link on the Oxon Mammal Group's Facebook page – but it might be a good idea to register in advance. Although the talk is free, a donation would help to ensure that the Oxfordshire Mammal Group can continue to host this series of talks by expert speakers.
The Badger Trust – Groups Event – Saturday 28 November 2020
The impact of Covid 19 from March this year meant the Badger Trust has been unable to host the AGM to report on 2019 as the usual in-person event. As such they are going virtual and would like to invite members of the Bucks Badger Group to attend the online event on Saturday 28th November, from 1-4pm.
You can register for the event by going to https://bit.ly/38zwxYv and signing up. You will not receive the joining details from this, but we will follow up with everyone registered with full details in the week prior to the 28th. 
This event aims to bring badger groups together for an update on the Trust on work delivered in 2019, with an opportunity to ask questions. It will also include the formal launch of our new film 'Stopping Wildlife Crime' The film supports the previously published guid 'Persecution of Badgers: A Guide for Investigators in England and Wales', which the Badger Trust produced in partnership with Naturewatch Foundation. 
All paid up paid up members of Bucks Badger Group are very welcome to attend this event. 
Sunday 7th July 2019 Sett surveying/training session
We are running another sett surveying/training session on Sunday 7th July 2019. This time it will be in the south of the county at Homefield Wood, near Marlow which is a BBOWT Nature Reserve. Meeting will be at 10.00 am in the car park. Homefield Wood Reserve is a haven for flowers, birds, butterflies and moths as well as deer, so bring your binoculars as well if you have them. Let us hope the weather is a little kinder than it has been lately.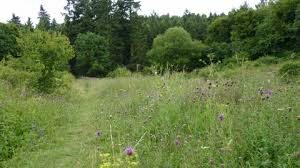 If the cull does come to Buckinghamshire, which is a distinct possibility in the next year or two, it is likely that areas of South Bucks will be involved. However we need as many people as possible in the whole of Bucks sett surveying their local areas and we hope that when people are confident at recognising badger signs and setts they can go out and find setts in their areas for themselves. We can give them advice on areas to choose and any other help they need.
If you want to come with us on the 7th July, please phone Anne Bourne on 07979247797, 01494 715438 or email : bucksbadgers@outlook.com.
Badger Trust AM 2019
The Badger Trust AGM 2019 will be held on 18th May 2019 at Ryton Village Hall at 10.30 a.m where the Board and CEO will be reporting back on our work in 2018 and their plans for 2019. They also have presentations from two groups who received Badger Trust grants in 2018 along with updates from our Wildlife Crime Office and Marketing Manager.
If anyone would like to attend please email staff@badgertrust.org.uk  and also let them know your dietary requirements.
Sunday 18th November 2018 Sett surveying/training session near Milton Keynes.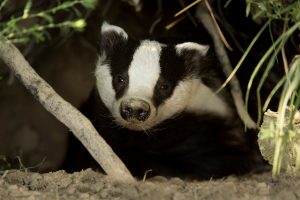 We are holding our next sett surveying/training session on Sunday morning 18th November 2018 near Milton Keynes, time to be confirmed. When you book a place, we will let you know the meeting place.
The last one we held was a success with several setts found.
We are going to hold a number of these sessions in various parts of Bucks, so that those who attend will be confident enough to survey their local areas. The badger cull has just finished in most areas of England, but we need to be ready when, rather than if, the cull comes to Bucks. The more setts we can identify, the  more we can try to defend.
However, there are also other threats to our badgers, HS2, Oxford/Cambridge Rail, Expressway, housing developments etc and we need to know where the setts are, to be able to make sure that the setts are protected or if they have to be relocated that it is done within the law.
Come along and spend a few hours with like minded people, exploring the countryside and having an enjoyable time learning about badgers.
If you want to attend please phone Anne on 01494 715438 or 07979247797 or email bucks.badgers@outlook .com
Saturday 10th November 2018 Badger Trust Symposium
Badger Trust have transformed their annual event to be an affordable, jam-packed day of discussions and debate on a wide range range of issues of importance to badger protection, ecology and welfare.
The Symposium will include a focus on bovine TB policy, science and innovation in TB testing, the impact of HS2 on badgers, wildlife crime and badger rehabilitation and release.
Speakers will include David Drew MP (Shadow Defra Minister), Professor Malcolm Bennett (  University of Nottingham), Inspector Lou Hubble ( Head of National Wildlife Crime), Dick Sibley (Livestock Vet), Ian Redmond OBE (Zoologist, Naturalist and film maker) and Pauline Kidner (founder Secret World).
The Badger Trust Symposium 2018 will take place at Ashorne Hill Conference Centre, Leamington Spa. Your event pass will give you access to all talks on the day, refreshments and lunch. If you wish to have accommodation please contact the venue direct. Cost for thye day is £50.00 and there are only a few tickets left.
To book a place: http://www.badgertrust.org.uk/symposium
SUNDAY AUGUST 19TH SETT SURVEY/TRAINING DAY - MID BUCKS
Sunday August 19th 2018 Sett surveying/training day  10.00am to lunchtime.
Come and join us and learn more about our iconic mammal. meet new people and explore the Bucks Countryside.
With the number of threats our badgers are under at the moment, such as HS2, the Oxford-Cambridge crossrail, badger persecution, developments and with the probability that the badger cull will come to Bucks next year, it is essential that we know where our badgers are so that we can monitor and protect them.
For that , we need as many people as we can get to help us with this, so come along, learn what is involved and with our guidance, help with our sett surveying. 
It will be a 2 mile circular walk, some steep sections but plenty of options for short cut back to the start. Please, no dogs.
If you wish to come please email me on bucksbadgers@outlook.com or phone me on 07979247797 and you will be given more details.
Saturday 14th July Maidenhead Badger March
Maidenhead March against the Badger Cull! – hosted by Berkshire Badger Trust
Saturday 14th July 2018 at 12.30pm – 3.30pm
Kidwells Park, Maidenhead SL6 8AQ
"The government appears determined to roll out the culling of badgers throughout England and maybe coming to Berkshire this year. As Maidenhead is Theresa May's constituency, we need to shout out loud in high numbers to get the message over to the public that the killing of badgers is a pointless exercise to control bTB in cattle."
Please Come and Join us.
Saturday 7th July 2018 Badger walk at Dancersend Nature Reserve near Tring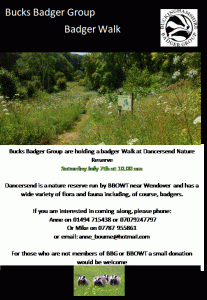 Badger Watching at Tewin Orchard - various dates
Herts and Middx Badger Group have arranged four dates for Badger Watching at Tewin Orchard near Welwyn Garden City. It is a brilliant place for seeing badgers and you sit in comfort in the lovely big hide. You will need to be able to sit quietly for a couple of hours
The dates are: Tuesday 5th June at 8.00pm
Tuesday 3rd July at 8.00pm
Tuesday 7th August at 8.00pm
Tuesday 4th September at 8.00pm
To book a place please phone 07733 051760. Please call between 8-9 am or 7-9 pm ONLY: outside of these times, or if there is no answer, please text your name and preferred date  and someone will get back to you. This number is staffed by volunteers from March 1st until September 30th.
You may like to visit the Tewin Orchard website: http://www.tewinorchard.co.uk
Saturday 16th June Birmingham Wildlife Festival
Saturday 16th June 2018 Birmingham Wildlife Festival, Victoria Square, Birmingham
10.00am – 5.oopm Hosted by Badger Trust West Midlands
The largest wildlife event in the uk
There will be a fantastic choice of speakers and musicians on the stage throughout the day plus a vast array of exhibitors promoting British Wildlife, selling ethical merchandise, together with plentiful amount of hot and cold vegan food being available. Please come and join us!
Saturday 12th May 2018 Badger Trust AGM
The Badger Trust AGM will be held on Saturday 12th May 2018 at 11.00am. Doors open at 10.30am for registration and refreshments.
The venue is Ryton Village Hall, High Street, Ryton-on-Dunsmore Coventry CV8 3EY
The AGm is for Associate member groups of the badger Trust and their individual members and for supporter members of the Badger Trust.(individual, joint, family, school/youth group, other group, individual life and joint life)
If Bucks Badger Group or a supporter member wishes to propose a Special Resolution to make changes to the memorandum of Association or to the Articles of Association of the Badger Trust, please complete the notice for Special Resolution, to be  found on the Badger Trust Website and send it back  by Friday 13th April 2018 to the address below.
The Agenda for the AGM ( including any special resolutions ) will be sent by Friday 20th April 2018. To book your place at the AGM, please complete the booking form ( to be found on the Badger Trust website) and send it as soon as possible to the address below.
All forms to be sent to : The Badger Trust, PO Box 708, East Grinstead, RH19 2WN or email staff@badgertrust.org.uk
Postponed - Sat 3rd March Bugs, Bluebells and Badgers: Natural History of Great Missenden
Saturday 3rd March 2.30pm Bugs, bluebells and Badgers : Natural History of Great Missenden.
Unfortunately, due to the adverse weather, this event has had to be postponed.
It will be rescheduled for some time in April.
"Bugs,Bluebells and Badgers: Natural History of Great Missenden."  An event by the Friends of Missenden Parish Church in the Oldham Hall.
In the Missenden area can be found a huge variety of wildlife shaped both by the geology of the Chiltern Hills and by the action of man for millennia. But we are increasingly losing much of that variety. What survives and how can we best protect it?
With Tony Marshall, Founder of Prestwood Nature
Tickets £10 from Samways newsagents. Free parking on the nearby school playground.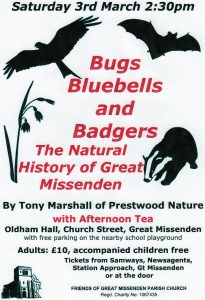 May 5th 2018 Evesham Badger March
Evesham march against the badger cull and information day- hosted by Badger Trust West Midlands
Saturday May 5th 1pm – 5pm
Abbey Park Evesham
Thursday 5th April 2018 Bucks Badger Group AGM
Bucks Badger Group AGM
Our next meeting will be our AGM on Thursday 5th April 2018 at 8pm.
Location: St Anne's Hall, 7b Aylesbury Road, Wendover, Bucks. HP22 6JG.
All welcome to attend – tea, coffee and biscuits.
Tuesday 3rd April Herts and Middx Badgers - a study of badger road casualties
Professor Malcolm Bennett will be coming from Nottingham University to speak to the Herts and Middx Badger Group.
This is being held at 8.00pm at Mead Hall, East Lane, Wheathampstead, Herts. AL4 8BP. Parking in the public car park in East Lane which is free. Tea, coffee and biscuits available.
Tuesday 6th March Herts and Middx Badgers - a talk by Mike Huskisson, author and anti-hunt campaigner
Herts and Middx Badger Group are hosting a talk by Mike Huskisson, author of Outfoxed Again: Winning for Animals and anti- bloodsports campaigner.This is being held at 8.00pm at Mead Hall, East Lane, Wheathampstead, Herts. AL4 8BP. Parking in the public car park in East Lane which is free. Tea, coffee and biscuits available.